Cunningham Creek Elementary School is a community of Caring Cardinals, committed to creating an atmosphere that encourages students to develop to their greatest potential. Through our commitment to Communicating, Caring and achieving Excellence, all Cardinals will soar with a passion for lifelong learning.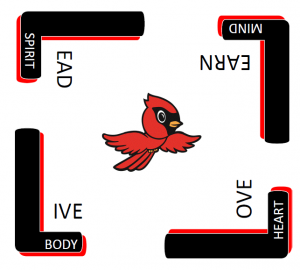 At Cunningham Creek, we will build strong bodies, hearts, minds, and spirits so we can live, love, learn, and lead.
Thanksgiving Meal in the Cafeteria on November 15 – Turkey & Gravy w/choice of Roll, Green Beans, Mashed Potatoes, Cranberry Sauce, Homemade Cookie, and choice of Milk.
2019-20 Program of Choice Information
For current 5th grade students living in St. Johns County who wish to apply to the St. Johns County Center for the Arts at Murray Middle School for 2019-20, please view the Feb. 15th Audition Schedule. The application window is Jan. 24 at 8am - Feb. 19 at 5pm, 2019. Learn more about this program at Career Academies of St. Johns.
CHARACTER COUNTS! 6 Pillars 6K/3K Run/Walk

Walkers, runners and fitness enthusiasts are invited to participate in the CHARACTER COUNTS! 6 Pillars 6K/3K Run/Walk on Saturday, February 2, 2019 at 9 a.m. The run/walk will begin and end at Palencia Elementary School. Register before January 1 and receive a $5 discount!
Register today!