Cunningham Creek will be Celebrating Literacy with a week of fun celebration days focused on Literacy!
Monday, January 22nd –  "Hats off to Books" Students will wear their favorite hat to show support for literacy week.
Tuesday, January 23rd – "Read Your Shirt" Students will wear their favorite t-shirt with logos to read throughout the school. (Appropriate Language)
Wednesday, January 24th – "Reading Rocks! Wear Some Funky Socks" Students will wear funky socks to show support of Literacy Week.
Thursday, January 25th – "Poem in your Pocket" Students will share their favorite poems with their class.
Friday, January 26th – "Score with Books" Students will wear their favorite team jersey to show support for Literacy Week.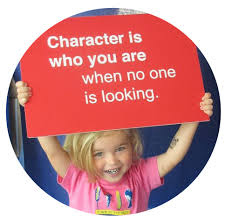 Citizenship Do your share to make your school and community better • Cooperate • Get involved in community affairs • Stay informed; vote • Be a good neighbor • Obey laws and rules • Respect authority • Protect the environment • Volunteer
Responsibility Do what you are supposed to do • Plan ahead • Persevere: keep on trying! • Always do your best • Use self-control • Be self-disciplined • Think before you act — consider the consequences • Be accountable for your words, actions, and attitudes • Set a good example for others
Fairness Play by the rules • Take turns and share • Be open-minded; listen to others • Don't take advantage of others • Don't blame others carelessly • Treat all people fairly
Caring Be kind • Be compassionate and show you care • Express gratitude • Forgive others • Help people in need
Trustworthiness Be honest • Don't deceive, cheat, or steal • Be reliable — do what you say you'll do • Have the courage to do the right thing • Build a good reputation • Be loyal — stand by your family, friends, and country
Respect Treat others with respect; follow the Golden Rule • Be tolerant and accepting of differences • Use good manners, not bad language • Be considerate of the feelings of others • Don't threaten, hit or hurt anyone • Deal peacefully with anger, insults, and disagreements
FSA Redesigned Score Reports Information from FDOE
Florida Standards Assessments (FSA), statewide science assessments and statewide end-of-course assessments score reports have been redesigned to make them more meaningful for Florida's students, parents and educators. Information on the new reports can be found HERE.

Attention All 5th Graders!
Are you interested in the performing or visual arts? Then, come audition at R.J. Murray Middle School for the Center of the Arts Academy! The online application will be open from January 18 at 8am until February 8 at 5pm.
Find out more and apply!
CHARACTER COUNTS! 6 Pillars 6K/3K Run/Walk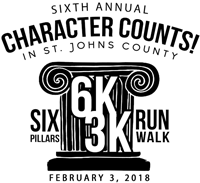 Walkers, runners and fitness enthusiasts are invited to participate in the CHARACTER COUNTS! 6 Pillars 6K/3K Run/Walk on Saturday, February 3, 2018 at 9 a.m. The run/walk will begin and end at Palencia Elementary School. Register before January 1 and receive a $5 discount!
Learn more and register today!