Cunningham Creek Elementary School is a community of Caring Cardinals, committed to creating an atmosphere that encourages students to develop to their greatest potential. Through our commitment to Communicating, Caring and achieving Excellence, all Cardinals will soar with a passion for lifelong learning.
At Cunningham Creek, we will build strong bodies, hearts, minds, and spirits so we can live, love, learn, and lead.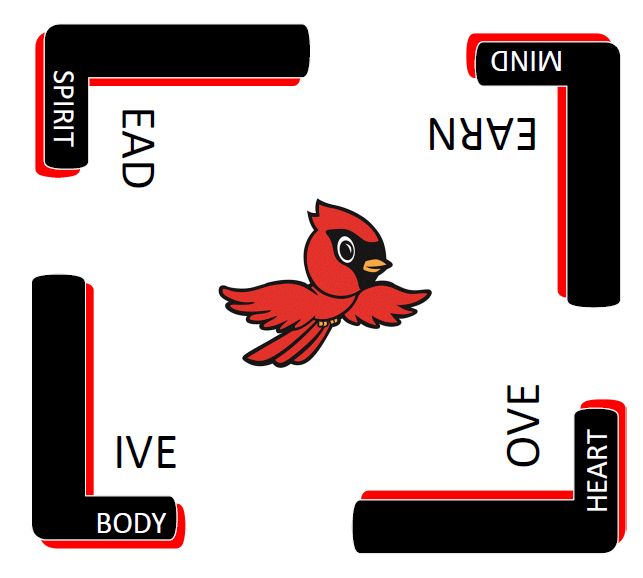 August 10 – First Day of School
Office Hours: M-F 7:55am – 3:45pm
Front Office: (904) 547-7860
Clinic: (904) 547-7872
If your child is in a VE class, please don't buy the supplies on the grade level class supply list.   Wait until you get your individual teacher's supply list.  You may not need to purchase the same amount of items.
If your child is absent from school, a parent/guardian must turn in a written/signed note within 48 hours for the absence to be considered excused.  Emails and phone calls will not be accepted.  We appreciate your support.
Please register your student online by clicking the button below.
Very important! – For first time enrollment into SJCSD schools, required items to complete your child's registration are listed below.
Complete Online Registration
Three proofs of residency (Mortgage Statement, Deed or lease agreement, and one utility bill and one additional bill)
ID for identification purposes
Original Birth Certificate
Completed Florida immunization form 680 (out of state immunizations must be transferred to FL form)
Physical dated within a year prior to date of registration.
After you submit online registration, please call Mrs. Jones @ 904-547-7866 to leave a message to make an appointment to complete registration.
(Even if you uploaded your documents, please bring originals to your appointment.)
We look forward to meeting the newest members of our Cardinal family!
Volunteer and Student Check Out Procedures
A drivers license or State ID is required at all times on school property and when checking your student out.
Please remember that ALL visitors and volunteers entering the school must be an approved volunteer through the county. If you have NOT filled out application, please complete the School Access Form. Please do not reapply if you have already made an application in St. Johns County. Volunteers will automatically be updated in the system after 3 years. Please remember to allow 1-4 weeks for your application to process. Please track your volunteer time with our Volunteer Time Sheet.

FortifyFL is a website and app developed at the direction of the Florida Legislature. Any student, educator, parent or member of the public can report school safety concerns directly to law enforcement and school administrators anonymously and easily through the FortifyFL app or getfortifyfl.com.
2020-2021 Instructional Materials Adoption for English Language Arts (ELA)
St. Johns County School District curriculum department representatives and adoption committee members have completed the review process for the Instructional Materials Adoption for English Language Arts (ELA). On January 26, 2021, the School Board will conduct a public hearing to receive comment from the community regarding the final list of recommendations for instructional resources for this adoption. The public is invited to attend this hearing. Committees composed of teachers, district content experts, parents and community members compiled the lists. The hearing will be held at 9:00 a.m. in the auditorium of the District Administrative Building located at 40 Orange Street in St. Augustine.
View the final recommended selections and links to the selections. If you would like access to available printed materials or require assistance reviewing the online resources, please call the Instructional Resources and Media Services office at 904.547.3947. Materials are available for review from 8:30 a.m. - 4:30 p.m. when district offices are open.
Board action on the final recommendations for English Language Arts instructional materials is expected to take place at the School Board meeting in February.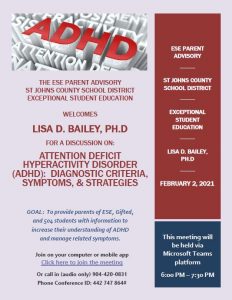 On February 2nd from 6:00pm to 7:30pm, the ESE Parent Advisory will welcome Lisa D. Bailey, Ph.D., for a virtual discussion titled "Attention Deficit Hyperactivity Disorder (ADHD): Diagnostic Criteria, Symptoms & Strategies." Join the meeting online via Microsoft Teams or join via phone by dialing 1-904-420-0831 and then entering the conference ID: 442 747 864#