THURSDAY ACTIVITIES
3:00-4:00 PM
SESSION 1 Flag Football  
9/7 to 12/14/2023   ($308.00/14wks)
**Early bird special – Expires Aug. 25th
  SESSION 3 – Wiffle Ball  
FLAG FOOTBALL/BASKETBALL/**WIFFLE BALL
S&A Flag Football Flyer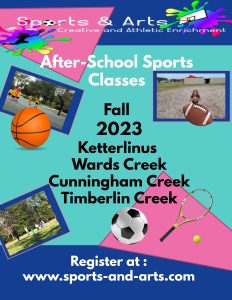 Develop: Speed, Agility, Footwork, Hand-Eye Coordination. Improve Confidence. Play games and FUN!
Register at:  www.Sports-and-Arts.com
Coach Frank (646) 824-5102
IMPORTANT INFORMATION:
If you register your child for this activity and they are not currently enrolled in Extended Day services, please make sure to go to "Important Forms and Links" on the Extended Day page to download the 2-page "Enrichment Only Registration Form".  This form must be completed and turned in with the annual $25.00 registration fee, per child, before your child(ren) can start the activity.  This is for CCE and is separate from any fees the activity charges.