Stepping Stone Acting
Stepping Stone Acting "Shooting Stars" is an after-school enrichment program for students grade 1 through 5.  Students learn acting skills and "Character" values through exciting scripts, scenes, speech, movement, and games. 
This Enrichment activity will be hosted at CCES on Fridays immediately after school.  For more information please see the links below.
EARLY BIRD REGISTRATION LINK ⇒⇒⇒⇒⇒⇒⇒⇒⇒⇒⇒⇒⇒⇒⇒⇒⇒⇒ EARLY BIRD REGISTRATION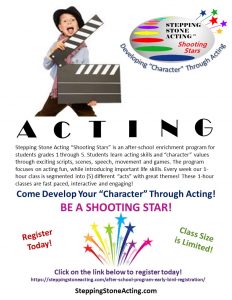 Click the link below to find out to have a spectacularly fun time….
St Johns County – AFTER SCHOOL PROGRAM OVERVIEW Only